About Skylab
Skylab is an AI photo processing service that makes high quality retouching accessible to anyone in the world.
We inspire millions of people around the globe to see themselves just as they want, fix imperfections and enjoy professional photography even when original materials are not ideal.
68239024
photos processed
Our story
Skylab was founded in 2018 by TJ Rak, a photographer with 15 years of industry experience, and Alireza Shafaei, a machine learning PhD. Together they are building the picture perfect team to bring the future of portrait editing to the world, from Vancouver, Canada.
Founders meet via
UBC Computer
Science PHD program.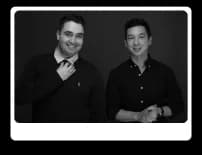 We launch our first color, crop and retouch products all designed for automation. Our fully functional prototype is loved by our first users.
With industry evidence of 90% reduction in production time, Skylab is admitted into the UBC Hatch program and UC Berkeley Skydeck programs for acceleration.
As system level changes are validated, Skylab adds additional retouching and extraction services.
Our team is set and ready for the world! We've doubled our product offerings including revolutionary glare removal and video services.